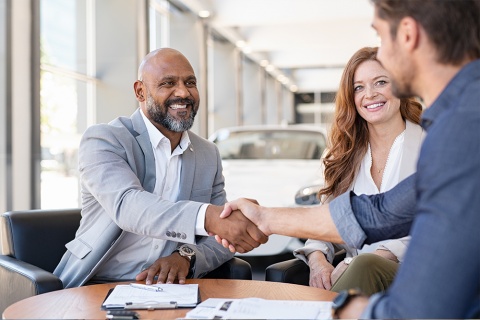 Nothing is more exciting than getting a new car and few things are as overwhelming as applying for auto financing. If you apply for more than you can afford, for example, you risk getting turned down, paying for the next 60 months more than you have to give or, even worse, defaulting on the loan and ruining your credit.
The truth is most people can get a car loan but not all loans are created equal. Like most things, there is a right and a wrong way to go about financing a car.
What is the smartest way to auto finance?
Understanding How Financing A Car Works
Perhaps one of the first things you should do as you learn about car finance options is to determine what kind and how much of a vehicle you can afford.
Most experts recommend you spend no more than 10% of your income on a car payment.
Next, determine your current credit score. The better the score the less interest you pay. Rates fluctuate and vary from lender to lender. How much you make a year, the length of the loan and how much you put down may factor into the rate, as well.
On average car finance rates are as follows:
500 to 589 = 15.24 percent interest rate
590 to 619 = 14.06 percent interest rate
620 to 659 = 9.72 percent interest rate
660 to 689 = 7.02 percent interest rate
720 to 850 = 3.60 percent interest rate
You will also want to calculate the affordability of potential auto loans.
If you can pay $300 per month and get a 60-month loan at 7.55%, you can afford a car that costs around $15,000 plus your down payment and before title and tax.
That number will go up or down depending on the length of the loan.
For example, if you are willing to pay on the loan for six years instead of five, you can afford a car that costs just over $17,000 but you will pay an additional year of interest. One year can end up costing you another thousand dollars or more if you have a high-interest rate loan.
In many cases, the interest rate may go up if you extend the terms of the loan, as well. If the interest rate is 7.55% at 60 months (five years), it might be 7.75% at 72 months (six years).
Tips For Getting The Best Car Finance Options
There are ways to ensure you get the best auto finance possible--and at the right time.
Consider Your Credit Score
If your credit score is low and you can wait, take steps to improve it before you buy a new car. Look for ways to build your credit like making on-time payments and paying the balance in full each month.
The difference between a fair score and a good one is thousands of dollars in interest.
Also, take a careful look at your credit report and fix any errors.
Down Payment
Take the time to save a decent down payment. The more you put down the better. It will not only improve your options for getting a low-interest loan, but it will reduce the amount you pay over the life of the loan.
Get Pre-Qualified
A dealer is more likely to negotiate the sale price if you already have financing.
Even if the pre-qualified loan is more than you want to pay in interest, it's worth having before you shop. It gives the dealer a chance to get you better financing, too.
Shop Around For The Best Rates
Start at your local credit union. Community-focused, member-centric financial institutions offer some of the most competitive car finance rates and flexible terms you'll find.
Think Big Picture
Often people figure out how much they can pay each month on a vehicle and stop there. They respond to TV ads that say you can get this or that car for just 200 dollars a month. If all you see is the monthly payment, then you don't know what you are paying for the car or how high the interest rate is for the loan.
Look at all aspects of auto finance, and break it down by:
Cost of the car
Interest rate
Loan term
Monthly payment
Making Wise Auto Finance Decisions
When it comes to putting your hard-earned money towards a major purchase, like a car, it's always best to go in well-informed.
At Chartway FCU, our representatives are here to answer all of your questions about how financing a car works and guide you towards finding the most competitive auto loan interest rates and competitive terms.
Find more information about car financing in these resources: