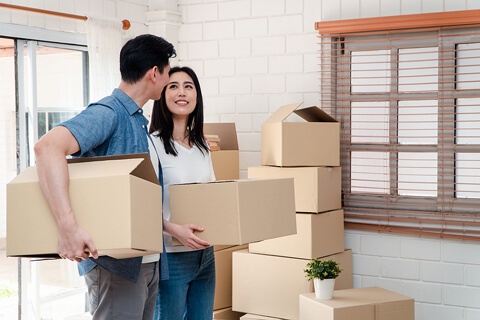 So, you've decided to buy a house. Leaving behind the days of landlords, rent payments, security deposits, and roommates can be an exciting step in your life!
However, there are some benefits, but also disadvantages, to be aware of that come along with being a first-time home buyer. We've compiled some helpful information to guide you along in your journey and know what potential pitfalls to watch out for.
First-Time Home Buyer Benefits
A first-time home buyer is classified as anyone who has not owned a principal residence for three years. This includes those who previously owned a home with someone else –if you've owned a home with a previous spouse, you are still classified as a first-time home buyer.
In addition, if you have owned a house, but your new spouse has not, you can buy a house together as first-time home buyers.
State programs
Depending on which state you live in, you may have access to different programs that assist you with purchasing a home.
For example, in Virginia, the VHDA Down Payment Assistance Grant can award you up to 2.5% of your loan value. This grant is based on your income and credit score, so check and see if you qualify. The best part is that if you qualify, there is no repayment requirement for this grant. Programs like this vary from state to state, so be sure to check into your state's housing authority to see what you may qualify for.
Tax breaks
Owning a home, specifically as a first-time home buyer, makes you eligible for tax breaks. The home mortgage interest deduction is a major tax deduction afforded to homeowners.
Federal assistance
Not only does the federal government provide programs to help you afford your first house, but it also provides counseling related to purchasing your first house.
The Federal Housing Authority and the Department of Housing and Urban Development (HUD) offer several homeownership programs, including mortgage insurance and homeownership vouchers for low-income families, It also provides specific programs for service members, veterans, and rural residents. Check the HUD website for more details.
Disadvantages of Being a First-Time Home Buyer
Let's face it – buying a home is a big decision. As a first-time home buyer, the process can be overwhelming. The more you know about potential challenges, the easier it will be to deal with them without it causing stress.
Hidden expenses
Purchasing a home comes with miscellaneous expenses that you might not be aware of during your first time purchasing. Be sure to budget for the costs of moving and any surprise maintenance costs you might discover in the new home.
Many neighborhoods and condos also have homeowners' associations that require you to pay dues. Be aware of how much your utilities will be in your new home as well.
If you've always rented, you may not be aware of the full scope of utilities associated with your new home. You can ask your realtor for an idea of the monthly utilities associated with homes you're considering.
Short-sightedness
You might fall in love with a busy neighborhood and bustling energy. However, if you're planning to expand your family in the future, it's a good idea to consider how your needs will change in the next 5-10 years.
Another thing to think about is the school district your home will be in. Ask your realtor about the quality of schools associated with your prospective address.
Visit the neighborhood at different times during the day and week to get a good idea of what traffic is like. You can also access information on crime rates in your new area. All of these things are important aspects to consider.
It's a good idea to buy the most affordable house in the highest quality neighborhood you are looking at. Even if your home does not have the newest gadgets and features, if you can make renovations in the years after you purchase, you can build the value of your house. You can't move a house from a bad neighborhood, though, no matter how many expensive features you add.
Rushing the process
If you find the home of your dreams right off the bat, it can be tempting to rush through the process. But, to get the best rate for your mortgage, it's a good idea to talk to a lender. This will give you an idea of what interest rates you can be approved for and help you avoid having to refinance a poor loan in the future. You can use a loan calculator to compare monthly and total loan costs.
Rushing the process can also lead to purchasing a house that is out of your price range. Be sure to square away how much you can afford before you head out into the housing market, so you don't end up falling in love with a home out of your budget.
Getting pre-approved for a loan can help by giving you concrete terms that you'd like to stay within. Pre-approval can also prove yourself as a legitimate buyer with appropriate finances and give you credibility.
Starting the Homebuying Process
Now that you're aware of all the benefits and disadvantages that come along with purchasing a home, check out our guide to buying a first home. We walk you through the process so you know where you're headed.