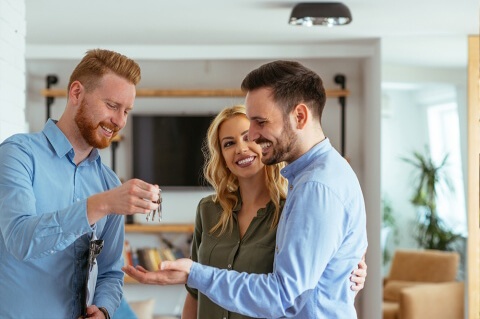 Purchasing your first home is exciting. It's a rite of passage that most adults look forward to at some point in their lives.
As you're going through the process, there are several variables to consider. Along with picking a great realtor to help you find the ideal house in your price point, you have to make sure to choose a loan that works for your finances.
What Are The Best Home Loans For First Time Buyers?
There are many options available. Here are five of the best home loans for first time buyers.
First Time Home Buyer Loan
First time home buyer loans are for those who have never purchased a house or who haven't owned a home for a set period of years.
There are great benefits to getting a first time home buyer loan. Most require a reduced down payment below the standard 20%. Some banks and credit unions offer 100% financing, so you don't have to put any money down at all.
If you can find a first time home buyer loan that doesn't require private mortgage insurance, that's even better. Private mortgage insurance (PMI) is a fee you pay each month with your mortgage until you've paid 20% of your loan's principal amount.
This is an excellent option if you don't have the capital available to make a hefty down payment on your first home.
Conventional Fixed Rate Loan
While there are loans specifically for first time home buyers, the conventional fixed rate loan is also a good option for some. A conventional loan gives you a fixed interest rate for 15-30 years.
However, this loan does require that you make a 20% down payment instead of paying private mortgage insurance. Making a 20% down payment can be difficult for first time home buyers, so unless you have the capital or can get down payment assistance grants, this might not be the best option for you.
This might be a better option for you if you prefer to make a hefty downpayment to reduce your monthly mortgage and pay off your home quicker. If you don't have to funds to put down 20%, you should opt for another loan.
FHA Loans
The Federal Housing Administration backs FHA loans, and FHA-approved lenders provide them.
This loan is typically offered to help those with a lower income purchase their first home. It's also a great option if you have a less than average credit score as they have a lower minimum credit score requirement than other lenders.
The FHA loan might be best for you if your limited income and/or lower credit score make it challenging to qualify for a mortgage.
VA Loans
The VA loan is specifically for military veterans, military personnel, and their families. One of the primary benefits is that you can purchase a home without a down payment, similar to a first time home buyer's loan.
They also offer minimal closing costs and very competitive interest rates.
This loan might be best for you if you have connections to the military and don't want to make a down payment on your first home. Compare the VA loan terms and first-time homebuyer loan terms to determine what which option is best for you.
USDA Loans
The USDA loan is a housing loan resource specifically for those who want to purchase in rural areas. They are only available in specific locations that are considered by the United States Department of Agriculture to be rural.
This is another no down payment loan that might be an excellent option for first time home buyers.
This loan might be best for you if you want to purchase a home in a rural area. Compare the first-time home buyer loan terms with the USDA terms to determine what you prefer.
Finding The Right First Time Buyer Loan
With so many options available, it can be difficult to determine which is the best home loan for first time buyers.
Oftentimes, the determining factor is how much you have available to make a down payment. If you have the money to make a 20% downpayment, opting for a conventional fixed rate loan will reduce your monthly mortgage payment and eliminate your monthly private mortgage insurance.
However, if you don't, compare the options available that eliminate or reduce your monthly downpayment. If you can find one that doesn't charge a PMI either, that's even better.
When it comes down to it, you need to compare the terms of all of the loan options that you're considering to determine which best suits your needs.
Deciding On A Home Loan For First Time Buyers
Perhaps you're ready to apply for a home loan today because you've found the house of your dreams. Or, maybe you want to apply before you start looking. It's possible you've just begun gathering information on the best home loans for first time buyers, so you're prepared when the time comes.
No matter where you are on the journey, if one thing is for certain it's that there are a wide range of home loans for first time buyers.
Determining which is best for you depends on your financial circumstances, but you can rest assured that at Chartway Federal Credit Union, we have a loan for you.