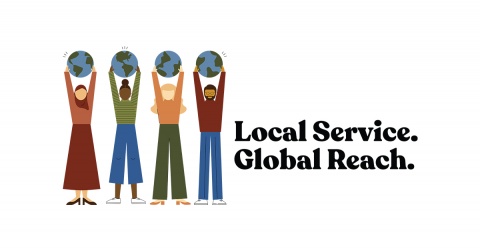 On Oct. 17, 2019, credit union members around the world will celebrate International Credit Union Day®, an annual event to commemorate the credit union movement's impact and achievements. This year marks the 71st anniversary.
Credit unions are not-for-profit financial cooperatives that provide an effective and viable alternative to for-profit financial institutions for millions of members in 117 countries worldwide. More than 89,000 credit unions exist globally, providing a plethora of financial services for their members, recognized as a force for positive economic and social change.
Since 1948, International Credit Union Day has been celebrated annually on the third Thursday of October. Each year, the international event affords the opportunity to remember credit unions' proud history and promote awareness of and support for the credit union and financial cooperative difference. This year's International Credit Union Day theme is "Local Service. Global Reach." It speaks to how each credit union serves a local community—and it is because of that local service in communities across the world that we have a global credit union movement that's now 200+ million members strong. This day is a celebration of the impact credit unions and other financial cooperatives have made—and continue to make for their members. It is also a chance to be thankful for the lives and communities that have been improved by our movement.
Why do millions of people worldwide choose credit unions?
Because credit unions have a "people helping people" philosophy that drives them to constantly improve the lives of their members and their communities. We are member-owned, not-for-profit financial cooperatives that provide a safe, convenient place for members to save money, access loans, and other financial services at reasonable rates.
Credit unions exist to serve their members, not to make a profit.
About Chartway Federal Credit Union
Chartway Federal Credit Union, a not-for-profit financial institution, has been proudly serving members for more than half a century. Guided by its vision, mission, and values, the $2.3 billion credit union is dedicated to making life more affordable for its 190,000 members through nearly 30 branches and online, mobile, video, and telephone banking services, including mobile deposit, mobile bill pay, and digital wallets. As one of the largest credit unions with membership concentrations in Virginia, Utah, and Texas, Chartway is consistently recognized for its financial strength, its ability to make life affordable for its members, and for its philanthropic efforts through its charitable arm, the We Promise Foundation, which has raised more than $12 million to provide life-changing experiences that bring joy, hope, and smiles to children facing medical hardship or illness. For more information, visit www.Chartway.com; or, visit them on Facebook, Twitter, or Instagram.