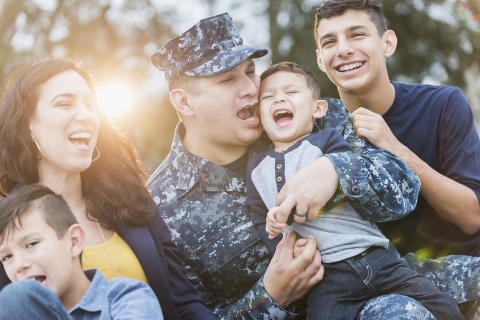 May is nationally recognized as Military Appreciation Month. This month we pause to not only recognize our credit union's deeply rooted military history, but our members and employees alike. Chartway membership began with active duty and retired military personnel. Being an active part of the military communities we serve is an integral part of our credit union culture.
It all started on September 4, 1959, with $35.00 at the Norfolk Naval Air Station. Seven civilian workers at the Norfolk Naval Air Station each invested $5.00 and incorporated NorVA N.A.S. Federal Credit Union. Its field of membership at the time included civilian and military personnel, along with their family members. The charter also extended to employees of the credit union and their families. The main purpose of this new credit union was to provide low-cost loans and to provide a convenient place for its members to save in a more organized manner.
People Helping People
While the founding members didn't have any direct financial experience, they knew quite a bit about helping people. As committed volunteers who assembled food baskets for the needy, planned base events, helped raise charitable donations, and they made efforts to make a positive impact at the Norfolk Naval Base.
These seven civilian workers at the Norfolk Naval Air Station pooled their money together, obtained a charter and founded one of Hampton Roads' first credit unions: the NorVA N.A.S Federal Credit Union.
Military History
Over time, the credit union grew, as did the field of membership. By the late 1960's, membership was expanded to military personnel who utilized the facilities of the Naval Air Station and also retired Navy department civilians and military personnel.
During the spring of 1972, the board voted to enlarge the credit union's field of membership to include service to Cape Charles Air Force Station and any person in the military who utilized the facilities of either base. That same year, the board also voted to change the name of the credit union from NorVa N.A.S. FCU to Naval Air Norfolk Federal Credit Union. "The new name covered NARF, the carriers and all other staffs. It represented the broader field of membership the credit union was chartered to serve. It really said who we were," said Carl Atkinson, Board Emeritus.
Serving Our Community
Throughout our history, making a difference in our communities has always been the cornerstone of our company.
In 2005, based on the enduring success of Chartway's charitable events, the We Promise Foundation was founded. With a goal to provide life-changing experiences that bring joy, hope, and smiles to children facing medical hardship or illness, it has been recognized nationally for its success in raising millions of dollars and strengthening the communities we serve by partnering with companion charities, sponsors, and contributors who share its passion and mission to make a difference.
Our Community Action Response Team [CARE] is led by credit union employees. The CARE Team supports many charitable events, including clothing and school supply drives, community clean ups, and The Marine Toys for Tots Program, just to name a few. In addition, the CARE Team's We Serve Reserve provides timely, short-term relief to employees needing assistance during times of hardship.
To learn more about Chartway and become a member, click here. Join online today by clicking here.