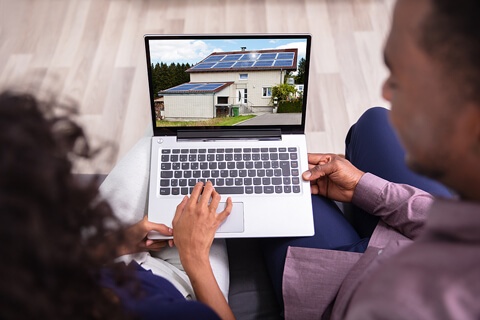 When you're ready to buy a house, one of the first questions that often comes to mind is, "how much house can I afford?" This number will help you decide the neighborhood you choose to live in, the size of your home, your down payment, and how quickly you can afford to purchase.
To get an idea of how much house you can afford, you want to consider both what a lender would potentially offer along with the mortgage payment you're comfortable paying each month.
Here are five factors you should consider when determining how much house you can afford.
Anticipated Mortgage
This is the part of the affordability process that is entirely dependent on your preferences. You want to determine how much you feel comfortable paying each month for your mortgage. It might be a number that you discover by looking at your current rent and choosing to stay around the same amount, or you might decide that you want to pay less or are comfortable paying more.
When choosing this amount, keep in mind that you shouldn't spend more than 28% of your income on your mortgage.
For example, if you make $6,000 per month, you don't want your mortgage payment to be more than $1,680. But again, this is just a guide. You ultimately decide what you feel most comfortable paying each month based on your budget and financial goals.
Sales Price
The sale price of the home is just one part of the equation because your mortgage includes more than the house cost. It also includes your interest, taxes, insurance, and sometimes private mortgage insurance (PMI) if you make a downpayment of less than 20%.
While it is just a part of your mortgage, it is a significant component, so you want to select a home price range that will allow you to stay within a budget that makes you feel comfortable.
Interest Rate
Your interest rate is how much the lender is charging to loan you the money—the higher your interest rate, the higher your monthly payment, and vice versa. Your lender will charge you a higher interest rate if you appear to be a greater risk based on your credit profile. The higher your interest rate, the less you will be able to borrow from a lender.
Third-Party Fees
There are many third-party costs associated with getting a mortgage, and they will be due at closing. All of these fees can impact how much you will ultimately be able to afford to pay for your home.
The below list is just a sample of the fees you might expect to pay at closing. Depending on the circumstances surrounding the purchase of your home, you can expect to pay additional fees.
Appraisal fee: You get an appraisal to determine the value of the property. A certified appraiser will review the home you're purchasing to verify to the lender that they aren't loaning more than the property is worth.
Credit report fee: Your lender will review your full credit report to determine whether you are qualified to get a mortgage based on your borrowing history. The credit report fee is paid to the reporting agencies.
Closing/escrow fee: Your title company or attorney conducting the closing process will receive the fee.
Title company title search fee: The title company will review the property records to ensure there are no outstanding liens or other issues that will block your ability to purchase the home.
Courier fee: The courier fee goes to the company transporting documents needed to complete the loan transaction.
Cash at Closing
Finally, when you close on your new home, you will need to bring cash to the table in most situations. This will include the fees listed above, and other fees that might be required.
According to Investopedia, homebuyers in the US pay an average of $4,876 in closing costs. However, this number does vary greatly depending on the city and state in which you purchase.
To estimate your closing costs, keep in mind that you tend to pay 2%-5% of the price of the home in closing costs. So, if your property is $300,000, your closing costs will be, on average, $6,000 - $15,000.
In some situations, the seller will pay closing costs depending on the deal you work out in your contract.
How Much House Can I Afford Calculator
Before you turn to a lender to apply for a mortgage pre-qualification or pre-approval, you can use a home affordability calculator to get an idea of the price point you might qualify for.
Here's a calculator you can use to get this number. Note this calculator isn't inclusive of the additional items aside from estimated principal and interest, such as third-party fees and cash at closing, but it may help you get closer to understanding your monthly payment estimate. You just have to input your expected loan amount and interest rate to get an idea of how much home you can afford.
Are You Ready To Buy?
Knowing how much house you can afford is often one of the first steps in the home buying process. Once you have this information, it's time to learn more about what you need to secure a mortgage for your new home.
At Chartway, our team of mortgage loan officers can help you find the right home financing to fit your needs, budget, and lifestyle.