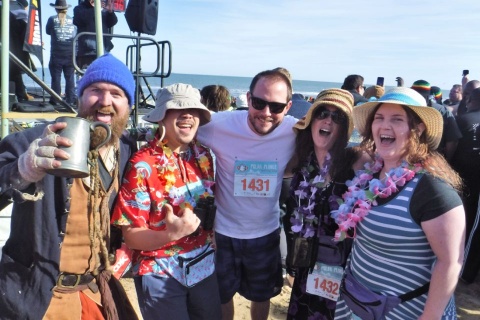 We had four brave Chartway teammates who braved the freezing temps in February to participate in the annual Polar Plunge in Virginia Beach. They jumped in the Atlantic Ocean to raise money for the Special Olympics of Virginia and beat their fundraising goal by raising $2,225. Our polar plungers were team 75 out of 2,800 teams in money raised. We are proud of them for living our values and being active in our community.
Kathleen Jordal, Real Estate Manager
Nicole Mondelli, Accounting Specialist
Jeremy Motil, Credit Officer
Thomas Grose, Equity Processor
And for those wondering what the Polar Plunge is, the Polar Plunge is much more than just an icy dip into the Atlantic. The funds raised at plunge help Special Olympics of Virginia provide year-round sports training, competition, leadership opportunities, and health services to more than 21,000 athletes of all abilities. You can see the kind of impact your generous donation gets the Special Olympics of Virginia.