Virginia Beach, VA (October 30, 2022) – Chartway Credit Union is proud to announce that its chief financial officer, Ben Lemoine, has been named a 2022 Top 40 Under 40 honoree by Inside Business. This year's nominees were evaluated based on their vision, leadership, innovation, achievements in business, and community service. The judges focused heavily on volunteerism, community commitment and involvement, and the diversity of interests of those being considered.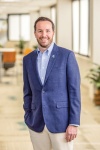 Lemoine acquired the CFO designation at Chartway in 2021 because of his exceptional performance in leading the credit union through increased automation for financial forecasting and budgeting as well as his service as a Member Champion for Chartway Investment Services and a Board Member and Treasurer for Chartway's philanthropic arm, the Chartway Promise Foundation, which provides the financial support needed to make dreams and wishes come to life for children facing medical challenges.
Lemoine's wide-ranging financial experience encompasses all facets of portfolio management, data analytics, credit and cash management, capital markets, budget development, capital restoration plans, funding and credit negotiations, risk management, and financial analysis, which supports a financially sound credit union positioned to grow, best serve members, and increase financial inclusion.
Brian Schools, Chartway's president & CEO, shared that Chartway is "also grateful to Ben for his philanthropic leadership, commitment to making a difference, and using his talents to strengthen our members, communities, and our team." In addition to serving as a board member and treasurer for the Chartway Promise Foundation, Lemoine serves on several other volunteer committees: he's the secretary/treasurer for Chartway's CUSO Board, a member of Chartway's asset/liability management committee, a member of the 401K investments committee, a member of the Chartway Promise Foundation audit committee, and he serves on the Chartway Promise Foundation compensation committee.
Lemoine holds a B.A. in business economics and an MBA in finance from the University of Georgia's Terry College of Business. He also attended the Western CUNA Management School at Pomona College where he received high honors for his project and examinations, obtained his Series 7 and Series 63 licenses, and is a FINRA registered representative.
Chartway & its Chartway Promise Foundation
Since 1959, Chartway has been unlocking the potential of individuals and families so they can thrive. Member-owned and values-driven, our $2.7 billion credit union proudly serves more than 200,000 members with branches in Utah, Texas, and Virginia. We've been recognized by Forbes as one of America's Best-In-State Credit Unions in 2022, included on American Banker's Top Credit Union to Work For 2022 list, and received numerous other top workplace and best credit union accolades. Reflecting a bright way forward, our charitable arm – the Chartway Promise Foundation – has raised nearly $14 million to bring joy, hope, and smiles to children facing medical hardship or illness. For information on our vibrant organization, visit www.Chartway.com and follow us on Facebook, Twitter, and Instagram.