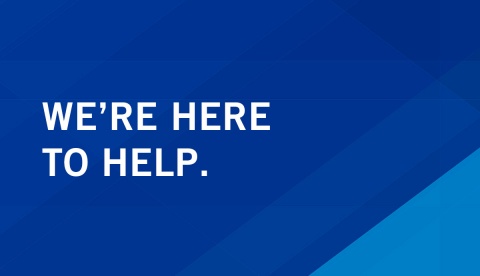 Chartway cares about the health and well-being of our members, team members and the communities we serve. We continue to monitor the evolving COVID-19 situation and making sure we put plans in place to best mitigate risks and support our credit union family.
For personalized curbside service, our branch drive-thrus and Direct Tellers are currently available, but for the safety of our members and team members, we have temporarily closed our branch walk-in lobby service.
Should you need in-person assistance, please click the link below to request an appointment and our team will be in touch with you.
We will devote all necessary resources to help ensure your personal safety, while maintaining all of the services you count on. And as new developments emerge, we will share information with you about how we continue to operate safely and effectively.
We understand that many of our members may experience both personal and financial stress during these uncertain times. Here are some ways we are offering assistance:
Financial Support
We are committed to doing everything we can to meet your financial needs. We're here for you with the solutions, support, and advice you need to manage your accounts. Our emergency assistance program can help you manage through the financial challenges you may face.
Chartway's Emergency Financial Assistance Program:
Request to skip your loan or credit card payment(s)*
Request that we increase your line of credit
In addition, we are supporting our members by waiving Chartway ATM service fees.
If you need support, please call us at (800) 678-8765
Social Distancing Tips
As we do our part in following the directives of trusted health authorities, we ask that you join us by following the good health guidelines outlined by the CDC by practicing social distancing.
We understand that in today's world, having convenient access to your account is fundamental, which is why we're well prepared to continue serving you in our branches and through our wide variety of digital services.
Visit our full-service Drive-Thru and Direct Teller options:
Check/Cash Deposits & Withdrawals
Balance Inquiries
Account Transfers
Make Loan Payments
You can also access cash, deposit checks, and more through our ATMS, and you have free access to 30,000 ATMs in the CO-OP Network.
Use our Chartway Online Banking & Mobile App to:
Quickly deposit checks using Mobile Deposit
Securely make person-to-person payments
Easily transfer money to and from accounts at other financial institutions
Manage your budget using helpful financial management tools
Schedule a Branch Appointment for:
Safe Deposit Boxes
Notary
Cashier's Check or Express Check pick-up
Debit Card pick-up or large cash withdrawals
Deceased Accounts/Claims
IRA Contributions/Withdrawals/Set-up
Staying Informed
How to spot scammers
Fraudsters are taking advantage of coronavirus (COVID-19) fears. Keep your personal information protected by being cautious of scammers:
Requesting your bank account information for depositing your stimulus check (visit irs.gov/coronavirus)
Claiming to be the CDC with medical information
Selling fake products or gift cards
Asking for donations to fake charities
Getting you to click a link to access your account - often posing as your financial institution
Latest updates from the CDC
Stay informed with the latest updates about COVID-19 from the CDC or your local health department website.
*If your skip payment is approved, and you have an automatic transfer set up from another financial institution to make your loan payment, you will need to contact your financial institution and cancel the transaction for your payment. Interest will continue to accrue and payment(s) will be added to the end of the loan term, which may cause a reduction to GAP or Warranty Coverage. Other restrictions may apply. Speak to a Member Specialist for more information.