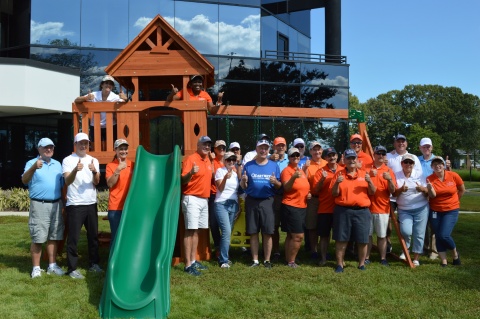 Virginia Beach, VA (October 7, 2019) – Wednesday, September 25, started like any other morning at Chartway Federal Credit Union – until a parade of leaders proudly sporting bright orange t-shirts representing Chartway's We Promise Foundation filled the parking lot located at its Headquarters location. Members of Chartway's board of directors and senior leadership team were greeted by pieces of a playground they'd be assembling as part of a Roc Solid Foundation playground build for local kid hero, Landon.
The morning was filled with helping hands, drill bits, nuts, bolts, screws, and smiling faces as the Chartway leadership team created breakout groups. Each breakout group worked to assemble different sections of the playground. Brian Schools, Chartway's president & CEO, worked with his team to assemble the ladder while Danielle Abbassi, president of Chartway's We Promise Foundation, partnered with Kim Little, executive vice president & COO, to create the interior play station. As team members constructed their individual areas, each breakout group started to see how their part played into the collective playground. For both the board and the senior leadership team, this build was not only a humbling way to work with the local Hampton Roads community, but it was also a meaningful team-building experience.
By mid-morning, a fully-assembled playground complete with a slide, swing, rock wall, and ladder had come together. Chartway's team members then had the opportunity to sign the playground with encouraging words. Kim Ross, Chartway's chief human resource officer, even drew paw prints and quotes from Nickelodeon's "Paw Patrol," local kid hero Landon's favorite TV show.
"Part of the We Promise mission is to make hopes and dreams come true for local kid heroes facing medical challenges," said Abbassi. "Working with Roc Solid allows us to not only make those dreams and wishes come true, but also gives us the ability to let kids play and forget about whatever challenge they're facing. That's what it's all about – letting kids be kids!"
Schools agreed. "Part of partnering with Roc Solid and working to build these playgrounds allows us to help these families as they fight medical hardship with their child. Today, we built an outlet for Landon to play, and a place for his family to watch him heal, laugh, and be himself."
By noon, Landon's family had arrived on-site for the big reveal. Although Landon – who is currently receiving treatment for neuroblastoma – was unable to make it to the reveal as he was unexpectedly admitted to the hospital, his family and 6-year-old older brother, Tre, joined the Chartway team for the big reveal. Tre arrived blindfolded and following the big countdown and reveal, he ran to the playground and began to do what kids do best – play!
Later in the day, the playground was transported to Landon's home in Newport News, VA. Thankfully, Landon returned home just a few days later and is happily enjoying his new playground at home and playing morning, noon, and night alongside his big brother, Tre.

Brian and Tre – Two Thumbs up for the Playground: Brian Schools, Chartway's president & CEO, and Tre, Landon's older brother, gave the playground a thumbs up!

Raise the Completed Roof: Jared Perry, Chartway board member and the president & CEO of Make-a-Wish Utah, and Skip Wilson, Chartway's senior vice president of branch services, shared a smile as they completed their breakout group's section – the roof of the playground!

Kim Little Leaves a "Little" Encouragement: Kim Little, Chartway's executive vice president & COO, took a few quiet moments to gather her thoughts and leave a "little" encouragement for Landon and his family to read.
About Chartway
Chartway Federal Credit Union, a not-for-profit, member-owned financial institution, has been proudly serving members for more than half a century. Guided by its Purpose and Values, the $2.5 billion credit union that serves more than 190,000 members through its branch footprint and a full line of traditional and digital financial products and services - including Online, Mobile, Video, and Telephone Banking - is dedicated to unlocking the potential of individuals and families so they can thrive.
Chartway is also known for being an award-winning leader in charitable giving through its We Promise Foundation. As the charitable arm of the credit union, the We Promise Foundation provides life-changing experiences that bring joy, hope, and smiles to children facing medical hardship or illness. The foundation has been recognized nationally for its success in raising more than $12 million to support charities that align with its mission. For more information, visit www.Chartway.com; or, visit them on Facebook, Twitter, or Instagram.
About Chartway's We Promise Foundation
As Chartway Federal Credit Union's charitable arm, We Promise strengthens the communities it serves by partnering with companion charities, sponsors, and contributors to provide the financial support needed to make dreams and wishes come to life for children facing medical challenges. Since 1999, the credit union and its We Promise Foundation have raised more than $12 million to provide life-changing experiences that bring joy, hope and smiles to children facing medical hardship or illness. For more information, visit www.WePromiseFoundation.org; or, visit them on Facebook, Twitter or Instagram.