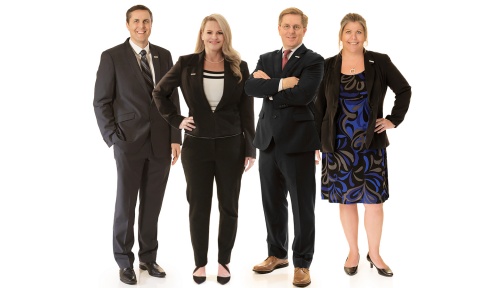 Virginia Beach, VA (April 27, 2018) – $2 billion dollar Chartway Federal Credit Union is proud to welcome four new leaders to its leadership team: John Sapp, vice president of business and risk analytics; Kathryn Saab, director of loss mitigation and fraud; Henry Thompson, director of information technology; and, Rachel Grossi, director of Member Solutions Center.
John Sapp
Sapp comes to Chartway with nearly 15 years of business management experience. He most recently served as vice president, senior business manager for Capital One.
As vice president of business and risk analytics, Sapp will be responsible for business and credit risk analysis to refine and improve business and credit strategies and sustainable growth objectives. He will also guide strategies based on analysis and insights across the organization.
Originally from Texas, he holds a bachelor of science in Environmental Engineering from Utah State University and an MBA from the University of Notre Dame - Mendoza College.
Kathryn Saab
Saab joins Chartway following 17 years of financial experience. Most recently, she led the collections call center at TEMPOE. She previously worked for both Fifth Third Bank and Capital One in a variety of Loss Mitigation roles.
A Virginia Beach resident and Brigham Young University graduate who recently moved from Ohio, she will be responsible for all aspects of loss mitigation and fraud prevention, including bankruptcies, foreclosures, legal action and garnishments, repossession and remarketing, and fraud monitoring and prevention.
Henry Thompson
Thompson joins Chartway with more than 20 years of experience in information technology. In his role as director of information technology, he will be responsible for the management of both the daily operations and ongoing systems development of Chartway's technology systems. In addition, Thompson will also manage the credit union's telecommunications activities.
Thompson earned a bachelor's degree in Physics from Longwood University and completed the cyber security certification program at Old Dominion University.
Rachel Grossi
An experienced leader with more than 20 years of experience in all areas of contact center leadership and operations for organizations including Crescent Bank and Wells Fargo Dealer Services, Grossi joins Chartway as its director of Member Solutions Center.
Grossi looks forward to planning, coordinating, and managing Chartway's enterprise contact centers, including all member interactions by telephone, e-mail, chat, and online applications.
In addition to holding a degree in psychology from Old Dominion University, Rachel has a Six Sigma Green Belt certification, and is a Certified Call Modeling and Business Solutions Leader.

Photo (L to R): John Sapp, Vice President of Business and Risk Analytics, Kathryn Saab, Director of Loss Mitigation and Fraud, Henry Thompson, Director of Information Technology, Rachel Grossi, Director of Member Solutions Center
About Chartway Federal Credit Union
Chartway Federal Credit Union, a not-for-profit financial institution, has been proudly serving members for more than half a century. Guided by its vision, mission, and values, the $2.3 billion credit union is dedicated to making life more affordable for its 190,000 members through more than 30 branches and online, mobile, video, and telephone banking services, including mobile deposit, mobile bill pay, and digital wallets. As one of the largest credit unions with membership concentrations in Virginia, Utah, and Texas, Chartway is consistently recognized for its financial strength, its ability to make life affordable for its members, and for its philanthropic efforts through its charitable arm, the We Promise Foundation, which has raised more than $11 million to provide life-changing experiences that bring joy, hope, and smiles to children facing medical hardship or illness. For more information, visit www.Chartway.com; or, visit them on Facebook, Twitter, or Instagram.