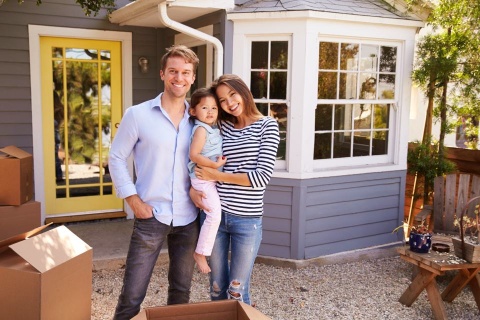 Financing Your New Home With Different Types Of Home Loans
Are you thinking of buying a new home? One of the first steps that you should take is to consider the different types of home loans available for your situation.
Many people are familiar with conventional mortgage terms, such as the 15 to 30-year mortgages. While these longer terms are most popular, there are other mortgage loan options to help you buy a home.
At Chartway Federal Credit Union, we offer a variety of different types of home loans to fit your lifestyle and your budget.
Different Types Of Home Loans: Which Is Right For You?
Understanding the different types of home loans available to you is key in making the right home financing decision. The type of loan you may be eligible for can vary depending on your credit score, the type of home you are looking to purchase, and the amount of money you are putting down.
Chartway Federal Credit Union is proud to offer a variety of different types of home loans to our customers. Let us work with you to determine which home loan is appropriate for your mortgage needs.
Conventional Fixed-Rate Mortgages
The traditional fixed-rate mortgage has a set interest rate and monthly principal payments that never change. When interest rates are low, fixed-rate loans are generally a better deal, because you can lock in the rate for the life of your loan. The shorter the term, typically the lower the fixed-interest rate.
Fixed-rate mortgages offer multiple benefits, including:
Knowing your interest rate over the life of your loan
The ability to lock in a low rate
Payments do not change on a month-to-month basis
No prepayment penalties
Quickly increases the equity on your property
The downside to a fixed-rate mortgage is that there is no way to adjust the mortgage rate once you have locked in the rate on your loan. If rates drop, you will be stuck at a higher interest rate.
In some cases, the locked-in rate is not as low as what is offered to an adjustable-rate mortgage upfront. A mortgage broker can help you determine the estimated rate for your loan.
FHA Loans
FHA insured loans have more lenient underwriting criteria and have historically allowed families with less than perfect credit to borrow money for the purchase of a home that they might not otherwise have been able to afford.
Many people will find that an FHA mortgage has various advantages, including:
Ability to take out a loan with less-than-excellent credit
Low down payment options
Low-interest rates and APR
Up to 6% of the loan can cover closing costs
It is important to remember that FHA loans require mortgage insurance for the life of the loan. To be approved, the home must not exceed the preset limitations of an FHA loan. Applicants can apply for 10, 15, 20, 25, or 30-year loans.
VA Loans
A VA loan is a mortgage loan guaranteed by the United States Department of Veterans Affairs (VA).
The VA loan was designed to offer long-term financing to an active duty service member, veteran, reservist or a military spouse. There is no monthly insurance requirement and up to 100% financing is available.
Benefits of a VA loan include:
0 down payment on purchases
Backing by the government to guarantee repayment to lenders
No prepayment penalties
No mortgage insurance necessary
VA loans can be fixed-rate mortgages or adjustable mortgages and applicants can shop around for the lowest rate for their needs. These loans are highly favorable to many applicants and lenders alike, but there are limitations. VA loans require a funding fee for buyers and closing costs could be high.
USDA Loans
The USDA Rural Development Guaranteed Housing Loan Program is a mortgage loan offered to rural property owners by the United States Department of Agriculture. This product offers 100% financing with limitations on property location and income levels.
USDA loans hold many benefits to qualified applicants, including:
No down payment required
Being able to use a secondary USDA loan even if you already own a home
Low funding fee of just 1%
Low mortgage rate insurance qualifications
Fixed-rate or adjustable-rate mortgages available
These loans are designed to help rural area families that would not otherwise qualify for traditional home loans. Because of the rural requirements, there are restrictions to where the loan can be used. Income restrictions also apply to USDA loans.
Choosing Among Different Types Of Home Loans To Finance Your New Home
For many people, homeownership is a goal and finding the right loan can make a difference in your overall buying process. With so many different types of home loans available, you must work with an experienced mortgage broker.
At Chartway Federal Credit Union, we offer fast pre-approvals, multiple financing options, and quick closings for buyers. Our mortgage brokers will give you upfront mortgage rates and help you determine which type of mortgage loan may be right for you.