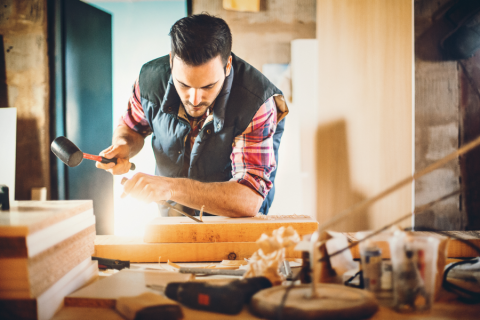 When you have everything to tackle that "someday" project, but the funds – we're here to help.
Saving doesn't have to be DIY.
Whether you have a home project on your to-do list or an exotic getaway on your wish list, Chartway is here to help. Apply for a home equity line of credit with a six-month promotional rate as low as 1.99% APR.* The current standard rate is 4.25% APR.*
Enjoy these great benefits:
Quick and easy access to funds
Transfer money using Online Banking
Borrow up to 100% of your home's equity
No annual fees
Just use promo code DIYHELOCS on your application.
This credit union is federally insured by the National Credit Union Administration. Membership eligibility subject to verification.
*APR = Annual Percentage Rate. This promotion is not available for properties in Texas. Rate is currently as low as 4.25% APR with loan-to-value less than or equal to 80%. Not all borrowers will qualify for the lowest rate. Rates effective 3/1/2017 and may change or end at any time. Promotional rate for new money loans only. Promotional rate begins at closing and is available for six months. Promotional rate terminates at the end of six months from the date of disbursement and applies to all loan balances, regardless of when the balances were added to the loan. Interest only payments for fifteen years. Minimum equity line or loan of $10,000. Equity lines are variable based on prime and are subject to change after opening. Fees, generally ranging from $300 to $850, may be incurred. Property insurance required. Maximum APR of 18%. Equal housing lender.