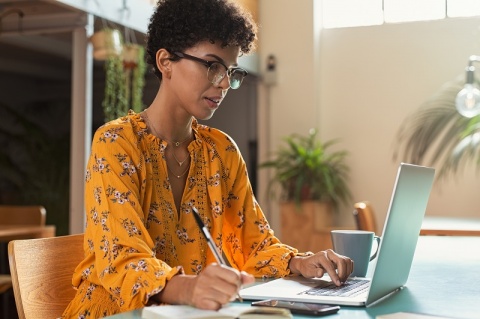 Shopping for a car is quite a process—you need to balance what you want with what you can afford. On top of that, shopping for financing that will allow you to buy a car is a process all its own, and it can get a little confusing in spots.
Steps To Finding An Online Car Loan
Finding an online auto loan helps simplify the process, but it's still important to take the right steps to get one you can afford.
Follow these five steps for a stress-free online auto loan journey.
Step 1: Know Your Budget, Know Your Credit
The first step to getting an affordable online auto loan is knowing how much you can afford.
Take a look at your budget, specifically your monthly income, expenses, and debts. If your current monthly debt payments are too close to 30% to 40%, you'll likely need to reduce that before you'll be approved for an online car loan.
Another factor to look at is your credit score. The better your credit, the better your chances of being approved, and the better rates you'll get.
If your credit score is below 600, you'll probably have a hard time getting approved at all, so it may be worthwhile to take some time to rebuild your credit.
A few ways to do this include:
Making bill payments on time
Reviewing your credit report and disputing any errors you find
Paying off high-interest debt, such as credit card balances
It may take a few months before any changes are reflected in your credit report, but it should help the approval process.
Step 2: Find Online Approval Options
Online searching is a great way to find an auto loan you can afford. Take some time to search for banks and credit unions in your area who offer online auto loan applications, and look at their financing options.
Some features and characteristics of online car loans to keep an eye out for include:
Low rates
Naturally, you'll want to search for low-interest rates. In general, credit unions offer lower rates than large banks, and many of them provide services online. You just need to make sure you qualify for membership.
On the other hand, banks have no such requirements but may have somewhat higher rates.
Fees and other costs
Lenders may assess fees or charge other costs in association with their loans. Try to find institutions that have minimal fees and who are upfront about the costs of borrowing from them.
Used vs. new car loans
Both used and new car loans are available, and you'll need to know which one you're looking for. Used car loans tend to be for lower amounts (since used cars cost less than new), but they usually have higher interest rates.
Auto Loan Pre-Approval
As you shop for a vehicle, loan pre-approval will allow you to have full confidence in what you can buy. You'll know the financing is there, and that will help you make a purchase decision without as much stress.
Qualified Chartway members and prospects can get a pre-approved check through our Express Auto Check program. When an applicant completes the auto loan process, a check is sent by overnight delivery or issued at one of our branch locations.
Learn More About Chartway Auto Loans
Additional requirements
There may be additional requirements and limitations involved in the online auto loan process.
For example, credit unions require you to be a member first, which means you'll need to meet certain requirements. If you're searching locally, this typically won't be an issue, but it's still worth considering whether you qualify to join.
Step 3: Get Quotes
Once you've gathered a list of potential lenders, contact each of them to get a quote. Often, this is easily done online. You just need to provide them with a bit of information, and they'll determine how much you might qualify for. That will give you precise information about the rates and terms they'd be able to give you, helping you make a more informed decision.
Getting a quote may require some information that allows the lender to pull your credit report. As they do so, they can pre-approve you for a loan, allowing you to know exactly how much car you can afford to buy.
Step 4: Complete The Application Process
Once you've found a few potential lenders, you'll need to start the application process.
Fortunately, the online auto loan application is fairly simple and straightforward, but you will need to provide some information during the process, such as:
Name and address, plus proof of residence
A valid photo ID
Proof of income
Proof of insurance
Vehicle information (especially in the case of used cars)
Again, credit unions will require you to be a member first, so keep that in mind as you go through the application process.
Step 5: Get Approved
Once you've submitted your application, each lender will review the information you provided and decide what amount of financing you qualify for.
At that point, it's a simple matter of contacting the dealer to complete the transaction.
Obtaining An Online Auto Loan
Take the stress and guesswork out of getting an auto loan by visiting your local credit union. You'll get access to great rates, stellar customer service, and an easy online car loan application process.