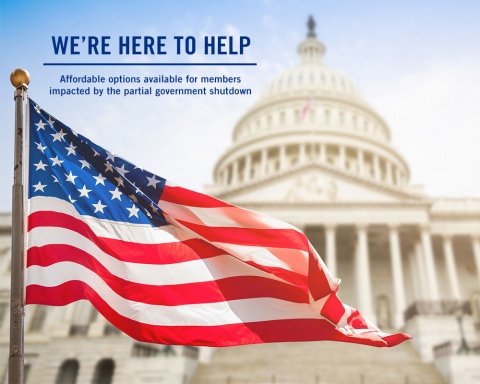 Chartway has special loans now available for furloughed employees.
Due to the extended partial government shutdown, Chartway has developed special loans to assist our members.
Qualified members can take advantage of a 90-day loan deferral OR those with an existing payroll Direct Deposit may be eligible for a 0% APR personal loan. These special options include the following:
90-Day Loan Deferral1
1.99% APR up to 12 months
Up to 2 months net pay, maximum loan amount not to exceed $6,000
90 days to make your first payment
0% APR Personal Loan2
0% APR for 3 months
Maximum loan amount $2,500
Loan due in full 90 days from open date
How to find out more...
If you or someone you know have been impacted, please visit your local branch or contact us at (800) 678-8765. We're happy to talk through all of the options we have available, and set up the best solution for you.
1Available to Chartway members 18 years and older, currently employed in a government role impacted by the shutdown. Members must have direct deposit into a Chartway custom share or prime share account which is deposited from an impacted government agency. For example, the monthly payment for a $6,000, 12-month loan at 1.99% APR would be a monthly payment of $507.06 (with 90 days to the first payment). 2Proof of income and copy of furlough letter may be required for approval. Membership eligibility subject to verification. Federally insured by NCUA.