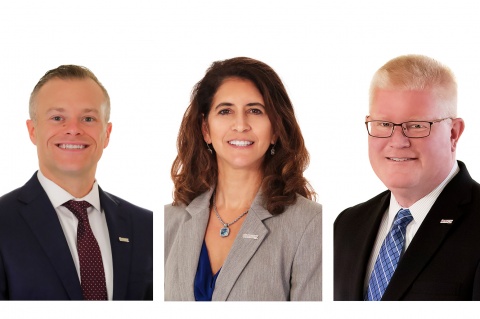 Virginia Beach, VA (November 14, 2018) – $2.1 billion dollar Chartway Federal Credit Union is proud to welcome three new leaders to its leadership team: Kim Ross, chief human resources officer; Byron Gifford, vice president of collections and fraud; and Neal Wellons, vice president of finance and accounting.
Kim Ross
Ross comes to Chartway following 16 years in progressively advanced human resources leadership and executive roles at CarMax in Richmond, VA. With extensive experience in talent acquisition and development, performance management, organizational design, cultural diversity, and creating a compelling employer brand, Ross's strong perspective will be pivotal as Chartway continues to advance.
In her role, Ross will support a leadership team driven to execute a progressive strategy aligned with organizational objectives, further strengthen Chartway's engaged, high performing, and best-in-class workforce, provide leadership in the areas of talent acquisition, leadership development, succession planning, legal / regulatory issues, and the employee experience, and develop solutions for its growing membership.
Byron Gifford
Gifford comes to Chartway from Discover Financial Services where he held senior management-level roles relative to sales acquisition and collections strategies. Prior to joining Discover, he served as the vice president & director of strategy for HSBC in consumer and mortgage lending.
Responsible for helping Chartway build the next generation design for its collections and fraud teams, Gifford will oversee collections strategy, manage collections partnerships, and work closely with business partners to strategically mitigate fraud risks, ensuring that Chartway has a comprehensive collections and fraud risk management framework.
Neal Wellons
Wellons joined Chartway in May with 25 years of experience in the financial industry. He spent the past 16 years with Capital Group / American Funds in Norfolk, VA, serving most recently as their senior manager / vice president since 2008. He is also a licensed CPA with a bachelor's degree in accounting and a bachelor's degree in finance – both from Virginia Tech.
Wellons is responsible for multiple aspects of Chartway's finance and accounting functions, including the management of the organization's budget, operational profitability, investments, asset / liability position, and credit quality.
About Chartway Federal Credit Union
Chartway Federal Credit Union, a not-for-profit financial institution, has been proudly serving members for over half a century. Guided by its vision, mission, and values, the $2.2 billion credit union is dedicated to making life more affordable for its 190,000 members through more than 30 branches and online, mobile, and telephone banking services, including mobile deposit, mobile bill pay, and digital wallets. As one of the largest credit unions with membership concentrations in Virginia, Utah, and Texas, Chartway is consistently recognized for its financial strength, its ability to make life affordable for its members, and for its philanthropic efforts through its charitable arm, the We Promise Foundation, which has raised more than $11 million to provide life-changing experiences that bring joy, hope, and smiles to children facing medical hardship or illness.For more information, visit www.Chartway.com; or, visit them on Facebook, Twitter, or Instagram.
PHOTO CAPTIONS
Byron Gifford (left) — Byron Gifford will serve as vice president of collections and fraud.
Kim Ross (center) — Kim Ross will serve as chief human resources officer.
Neal Wellons (right) — Neal Wellons will serve as vice president of finance and accounting.