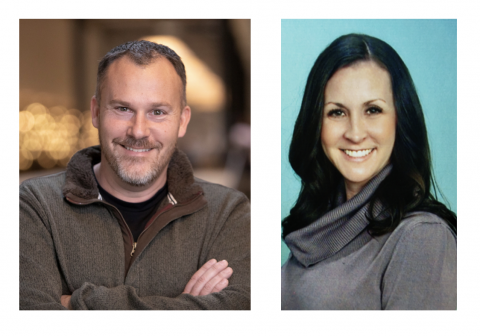 Virginia Beach, VA (February 4, 2021) – Chartway Federal Credit Union is proud to welcome Lara Shields and Ron da Silva to its associate director development program, designed to provide prepared board succession candidates to ensure board continuity.
A member for more than 20 years, Shields serves as the owner/executive director of Kids Park Child Development Centers located in Tooele County, Utah – a family-owned business that has served Tooele County since 1997. Shields leads a team of more than 100 staff and teachers who offer full-time programs for children ages six weeks to 12 years old in three locations.
da Silva is an internet technology expert with more than 25 years of experience. A Chartway member for more than 40 years, da Silva serves as the vice president of operations for Quantum Loophole where he leads the construction of master-planned, decarbonized cloud communities that are gigawatt scaled and environmentally progressive. A NACD Certified Board Governance Fellow, da Silva graduated from Old Dominion University with a bachelor's degree in applied mathematics and english.
"We're honored to welcome two long-time Chartway members and community leaders to our associate director development program," said CAPT George E. Sauer III, USN (Ret.) – Chartway's board chair. "At Chartway, our members, our communities, and our team are our top priority. It's who we are. Their backgrounds, business experience, and perspectives position them well to help us make life more affordable while upholding our foundational responsibilities of People First and Financial Soundness."
About Chartway Federal Credit Union
Chartway Federal Credit Union, a not-for-profit financial institution, has been proudly serving members for more than half a century. Guided by its vision, mission, and values, the $2.3 billion credit union is dedicated to making life more affordable for its 190,000 members through nearly 30 branches and online, mobile, video, and telephone banking services, including mobile deposit, mobile bill pay, and digital wallets. As one of the largest credit unions with membership concentrations in Virginia, Utah, and Texas, Chartway is consistently recognized for its financial strength, its ability to make life affordable for its members, and for its philanthropic efforts through its charitable arm, the We Promise Foundation, which has raised more than $12 million to provide life-changing experiences that bring joy, hope, and smiles to children facing medical hardship or illness. For more information, visit www.Chartway.com; or, visit them on Facebook, Twitter, or Instagram.