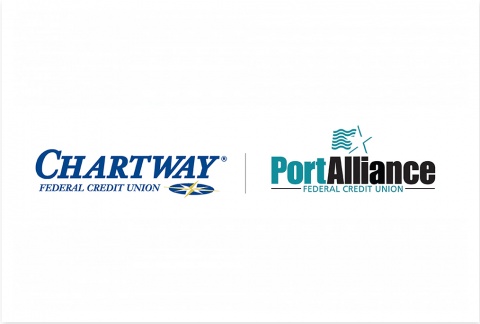 Virginia Beach, VA (January 2, 2019) – Chartway Federal Credit Union (Chartway) is pleased to announce that following regulatory approval from the National Credit Union Administration and approval by a majority vote of the PortAlliance Federal Credit Union (PortAlliance) membership, its merger with PortAlliance officially closed on December 31, 2018.
"As a member-focused financial institution, we're dedicated to making life more affordable for our members," said Brian Schools, president & CEO of Chartway Federal Credit Union. "That's why – with the merger now complete - we're excited to welcome our newest members and focus on being able to offer them expanded products and services, competitive rates, a larger branch network, and greater account access through our 24/7 Member Solutions Center and our online, mobile, and telephone banking services."
The full systems integration will take place in May 2019, and members can expect a smooth and seamless transition with no disruption in service throughout the transition process. In the meantime, Chartway will keep members well informed about the transition and post continuously updated information to www.portalliancefcu.com/chartway-merger.
Together as Chartway Federal Credit Union, the nearly $2.2 billion organization will serve more than 190,000 members with 19 branch locations in Hampton Roads and 41 branches nationwide.
About Chartway Federal Credit Union
Chartway Federal Credit Union, a not-for-profit financial institution, has been proudly serving members for more than half a century. Guided by its vision, mission, and values, the $2.3 billion credit union is dedicated to making life more affordable for its 190,000 members through more than 30 branches and online, mobile, video, and telephone banking services, including mobile deposit, mobile bill pay, and digital wallets. As one of the largest credit unions with membership concentrations in Virginia, Utah, and Texas, Chartway is consistently recognized for its financial strength, its ability to make life affordable for its members, and for its philanthropic efforts through its charitable arm, the We Promise Foundation, which has raised more than $11 million to provide life-changing experiences that bring joy, hope, and smiles to children facing medical hardship or illness. For more information, visit www.Chartway.com; or, visit them on Facebook, Twitter, or Instagram.