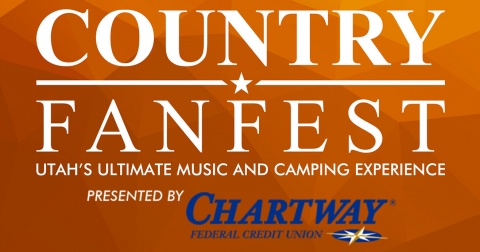 Chartway Federal Credit Union is gearing up for a rockin' summer as Chartway announces its Presenting Sponsorship – Utah's largest outdoor music festival. This year, the festival will feature a multitude of Grammy-winning country stars, including Brantley Gilbert, Old Dominion, Neal McCoy, Lee Brice, Kip Moore, and many more talented artists.
The three-day-long event will take place July 30 – August 2, 2020, in Tooele, Utah. Members of Chartway can look forward to benefits like discounted general admission passes, a VIP contest, free parking, and access to the exclusive Chartway Zone – a special covered area for members to relax in the shade and enjoy the festival.
"We're thrilled about our new Presenting Sponsor, Chartway Federal Credit Union. Our team is working with them to create some exciting perks for Chartway members at the festival this year, and we know that this partnership will help to create an even better Country Fan Fest for our patrons!" said Hal and Braken Hudson, the Country Fan Fest owners.
"At Chartway, we're dedicated to making life more affordable for our members and to strengthening the communities we serve," said Brian Schools, president & CEO of Chartway Federal Credit Union. "That's why we're honored to support this year's Country Fan Fest. It's a privilege to be a part of the positive impact it will have on our Utah community."
About Country Fan Fest
Country Fan Fest is Utah's largest outdoor music festival set for July 30 – August 2, 2020, at the Deseret Peak Complex located in Tooele, Utah. 2020 marks Country Fan Fest's sixth year with 30,000 attendees over three days. With two stages, twenty-one artists, forty vendors, and hundreds of campers. Country Fan Fest is the place to be. Unlike other festivals, Country Fan Fest is home to a beautiful water park, a grass area for fans in the main bowl, and gorgeous mountain range views. Country Fan Fest is an experience fans will be talking about for a lifetime. Visit countryfanfest.com for more information.
About Chartway Federal Credit Union
Chartway Federal Credit Union, a not-for-profit financial institution, has been proudly serving members for more than half a century. Guided by its vision, mission, and values, the $2.3 billion credit union is dedicated to making life more affordable for its 190,000 members through more than 30 branches and online, mobile, video, and telephone banking services, including mobile deposit, mobile bill pay, and digital wallets. As one of the largest credit unions with membership concentrations in Virginia, Utah, and Texas, Chartway is consistently recognized for its financial strength, its ability to make life affordable for its members, and for its philanthropic efforts through its charitable arm, the We Promise Foundation, which has raised more than $11 million to provide life-changing experiences that bring joy, hope, and smiles to children facing medical hardship or illness. For more information, visit www.Chartway.com; or, visit them on Facebook, Twitter, or Instagram.