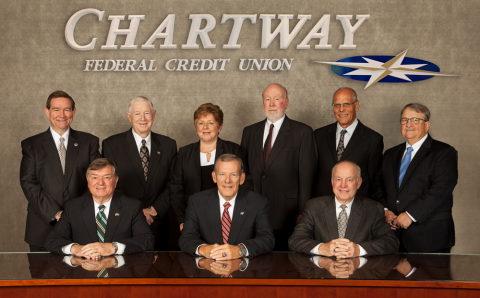 Virginia Beach-based credit union hosts 58th Annual Meeting; Announces Slate of Officials
Virginia Beach, VA (February 28, 2017) — Chartway Federal Credit Union, one of the largest credit unions in the country, is proud to announce that on Thursday, February 23, 2017, it held its 58th Annual Meeting at its Headquarters in Virginia Beach, VA. During this time, the following three individuals were re-elected to the board of directors:
George E. Sauer III, re-elected to 3-year term: CAPT George E. Sauer III, USN (Ret.) has been a member of Chartway's board since 2008 and currently serves as chairman of the strategic planning committee. He began his service to Chartway in 1987 as the military liaison officer. His tenure as a volunteer expanded in 1991 with his three-year appointment to the supervisory committee. In addition, he is current a member of the asset / liability management committee and the governance & policy committee, among others. He has also been a member of the new services committee and served as the vice chairman of the Directors' Memorial Scholarship Committee. Sauer earned a bachelor of science degree in naval science and mathematics from the United States Naval Academy, and a master of science in administration from George Washington University. During his time in the U.S. Navy, Sauer was the business manager for the Norfolk Naval Shipyard, the supply officer of an aircraft carrier, the director of accounting at a Navy inventory control point, and the executive officer of a naval ship. Additionally, Sauer served as the operations officer for two retail companies. He has also been a volunteer for Princess Anne High School's choral department since 1996 and an adjunct business professor at Tidewater Community College.
Robert N. Cook, re-elected to 3-year term: Cook is a seasoned leader with more than 30 years of experience in finance. He has been a member of the credit union's CUSO Board since 2004 - serving as its chairman from 2010 to 2012 and as the vice chairman from 2007 to 2009. He also led the CUSO audit committee as chairman in 2003 and has been a member of Chartway's ALM and legislative/regulatory and advocacy committees. Before becoming a credit union volunteer, Cook served on the USS Conyngham. After his discharge from the Navy, he worked for the federal government for 28 years, and for other distinguished firms including CACI International and KPMG until he retired in 2006. Cook is also an active member of the Hampton Roads community. From serving as co-chairman of the City of Chesapeake Public Schools Career and Technical Education Advisory Board, to participating on several other education, finance and church-related committees, Cook is committed to making a difference.
Wayne E. Foshay, re-elected to 3-year term: CAPT Wayne Foshay, USN (Ret.) has been a credit union volunteer since 2001, a member of its board since 2008, and a key leader on Chartway's We Promise Foundation board since 2013. Additionally, Wayne served as chairman of the credit union's CUSO board of directors from 2005 to 2009 and has commendably contributed to the success of the organization by enhancing the operations of its volunteer advanced training (VAT) program. He has also provided leadership through his service on the credit, legislative/regulatory & advocacy, new services & technology, and the asset/liability management committees. Foshay is a retired Navy captain with thirty years of military service and is currently the vice president for Beachtowne Builders. He earned a bachelor of science from Old Dominion University, completed MBA work at the University of New Hampshire, and is a graduate of the Industrial College of the Armed Forces, the Post Command Course of the Naval War College, and The Armed Forces Staff College. He is also a member of the Tidewater Builders Association, the Norfolk Redevelopment and Housing Authority's Builder's Guild, the East Beach Builder's Guild, and serves on the board of directors for the Virginia Beach Society for the Prevention of Cruelty to Animals.

George E. Sauer

Robert N. Cook

Wayne E. Foshay
Photos: During its 58th Annual Meeting, George Sauer, Robert Cook, and Wayne Foshay were re-elected by acclamation to Chartway Federal Credit Union's Board of Directors for three-year terms.
Following the Annual Meeting, the board of directors met to hold an organizational meeting — during which time, the following slate of officials was established:
Robert (Bob) Holmes — chairman of the board
George Sauer — 1st vice chairman
Robert Cook — 2nd vice chairman
Melvin Mizelle — treasurer
Lou Gull — secretary
Since first opening its doors for business, Chartway has served its members and enriched the communities in which the organization operates – providing strength, stability and smart solutions, including online, mobile, and telephone banking.

Photo: Top Row (L to R): Richard A. McGrath; Melvin S. Mizelle, treasurer; Judith P. Sparrow; E. L. Gull, Jr., Secretary; Richard R. Ahlborn; Robert N. Cook, 2nd vice chairman
Bottom Row (L to R): Wayne E. Foshay, director; Robert O. Holmes, chairman; George E. Sauer III, 1st vice chairman
About Chartway Federal Credit Union
Chartway Federal Credit Union, a not-for-profit financial institution, has been proudly serving members for more than half a century. Guided by its vision, mission, and values, the $2 billion credit union is dedicated to making life more affordable for its 180,000 members through its multi-state branch network and a full slate of online, mobile, and telephone banking services, including mobile deposit, mobile bill pay, and digital wallets. As one of the largest credit unions in the country – with membership concentrations in Virginia, Utah, and Texas – Chartway is consistently recognized for its financial strength, its ability to make life affordable for its members, and for its philanthropic contributions through its charitable arm, the We Promise Foundation, which has raised more than $10.5 million to provide life-changing experiences that bring joy, hope, and smiles to children facing medical hardship or illness. For more information, visit www.Chartway.com; or, visit them on Facebook, Twitter, or Instagram.