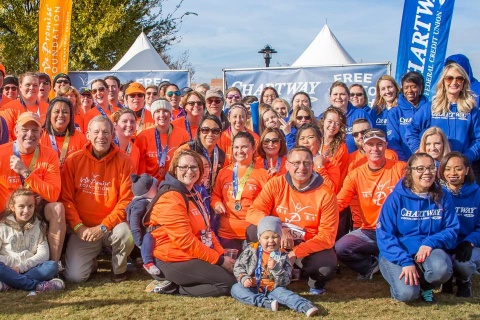 Virginia Beach, VA (November 20, 2017) – At Chartway Federal Credit Union, strengthening the communities it serves has always been core to its culture. That's why organization was proud to serve as the Title Sponsor for J&A Racing's Norfolk Harbor Half Marathon race weekend. The credit union's charitable arm, the We Promise Foundation, also served as the title sponsor of the 5k.
The Chartway Norfolk Harbor Half Marathon, We Promise 5K and Kids Final Mile, presented by Bon Secours In Motion, took place November 17 – 19, 2017, in Norfolk, VA, and is one of six family fitness events that J&A Racing owns and manages in Hampton Roads.
"We were so excited to extend our partnership with Chartway and its We Promise Foundation. We have enjoyed creating a great relationship with the Chartway team over the last few years, and look forward to working with them for the years to come to create a wonderful event," said J&A Racing co-owner, Amy Frostick. "Adding the We Promise 5k this year was a great way to bring awareness to the community about this wonderful foundation, and all of the amazing things that they do for children in Hampton Roads and beyond."
"As the largest credit union in Hampton Roads, we are dedicated to investing in activities that strengthen our hometown community," said Brian Schools, president & CEO of Chartway Federal Credit Union. "That's why we were honored to support this year's runners, and to give them the opportunity to learn more about the ways our full-service financial institution can help them make strong strides in their financial journey."
"Norfolk was thrilled to continue its partnership with J&A Racing and welcome the thousands of runners who participated in the Norfolk Harbor races in our city," said Kenneth C. Alexander, Mayor City of Norfolk. "The race weekend has become part of our kick off to the holiday season and adds to the vibrancy of our waterfront community."

Strengthening Its Communities — More than 150 Chartway employees and their family members either ran or volunteered for the Chartway Half Marathon and We Promise Foundation 5K.
About Chartway Federal Credit Union
Chartway Federal Credit Union, a not-for-profit financial institution, has been proudly serving members for more than half a century. Guided by its vision, mission, and values, the $2.2 billion credit union is dedicated to making life more affordable for its 185,000 members through more than 35 branches and online, mobile, and telephone banking services, including mobile deposit, mobile bill pay, and digital wallets. As one of the largest credit unions with membership concentrations in Virginia, Utah, and Texas, Chartway is consistently recognized for its financial strength, its ability to make life affordable for its members, and for its philanthropic efforts through its charitable arm, the We Promise Foundation, which has raised more than $10.5 million to provide life-changing experiences that bring joy, hope, and smiles to children facing medical hardship or illness.For more information, visit www.Chartway.com; or, visit them on Facebook, Twitter, or Instagram.
About J&A Racing
J&A Racing is a nationally recognized race management company based in Virginia Beach, Virginia with a mission to promote and support healthy lifestyles and the sport of running through the development and growth of their running events throughout Hampton Roads. Since 2003 when J&A Racing owners Amy and Jerry Frostick first took over the Shamrock Sportsfest, the Yuengling Shamrock Marathon Weekend has become one of the most popular events in the country, growing from 3,000 participants to a record 30,000 in 2015. J&A Racing's portfolio of fun, festive and family oriented events for runners at all stages in life has expanded to include the Halloween themed Anthem Wicked 10K and Old Point National Bank Monster Mile, the Big Blue 5K presented Bon Secours In Motion, the Christmas themed Great Outdoor Provision Co. Surf-n-Santa 5 miler, the Crawlin' Crab Half Marathon & 5K, the Chartway Norfolk Harbor Half Marathon and We Promise Foundation 5K and the Corporate 5K. For information on all of the J&A Racing events, please visit http://www.jandaracing.com/.