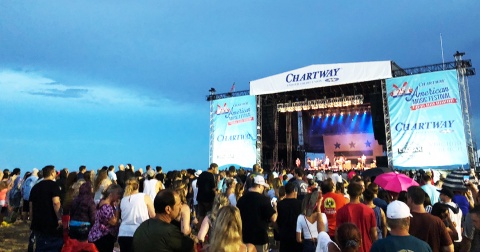 VIRGINIA BEACH, Va. – The 26th Annual Chartway Federal Credit Union American Music Festival will feature four major headline bands on the oceanfront 5th Street Beach Main Stage Aug. 30, 31, and Sept. 1. Lee Brice, 311, Live, and Dashboard Confessional will perform a wide range of world-class music from country to alternative to modern rock.
"We're proud to serve as the title sponsor of the American Music Festival for the second consecutive year," said Brian Schools, president & CEO of Chartway Federal Credit Union. "At Chartway, making a meaningful impact in our hometowns is core to who we are. We want to make every community in which we live and serve better, which is why beyond raising money to provide charitable grants through our We Promise Foundation, it's a privilege for us to sponsor events like the American Music Festival."
For more information about the Chartway American Music Festival and to view the line-up visit liveonatlantic.com.
Looking for a VIP experience?
Enter our raffle for a chance to win two 3-day VIP passes PLUS a $50 Visa® Gift Card.
All proceeds benefit Chartway's We Promise Foundation.