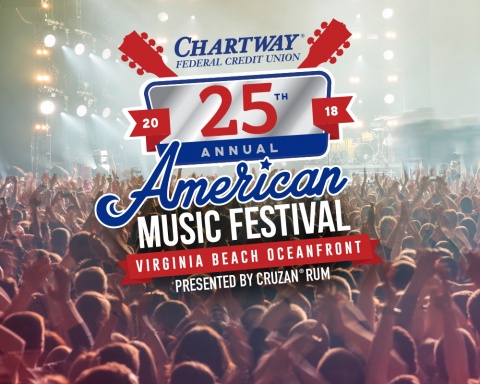 Get a 3-Day Pass for $25*
Purchase tickets between July 17th and August 17th for an exclusive Chartway member deal!
Click here for an exclusive Chartway member discount on tickets!
*Ticketmaster fees not included.
---
VIRGINIA BEACH, Va. – Chartway Federal Credit Union is the title sponsor of the 25th Annual American Music Festival. The Silver Anniversary event's 5th Street Main Stage headline bands are ZZ Top, Goo Goo Dolls, Ziggy Marley and SOJA. The event is Aug. 31, Sept. 1 and 2.
"At Chartway, we're dedicated to making life more affordable for our members and to strengthening the communities we serve," said Brian Schools, president & CEO of Chartway Federal Credit Union. "That's why we're honored to support this year's American Musical Festival – one of the largest outdoor music beach events on the East Coast. It's a privilege for all of us at Chartway to help bring this wonderful event to Hampton Roads – and, even more, be a part of the positive impact it will have on our community."
IMG President Ken MacDonald added, "Chartway Federal Credit Union is widely recognized throughout Hampton Roads as one of the premier financial institutions and a leader in community support. Having their title participation fortifies the event's esteem as the oldest, continuous and one of the largest beach music festivals in America.
"We're looking forward to hosting several headline 5th Street Main Stage bands, including ZZ Top, Goo Goo Dolls, Ziggy Marley and SOJA. These bands all have enjoyed topping the Billboard magazine music charts at No. 1 multiple times and collectively are responsible for dozens of Top 10 charted records," noted MacDonald.
"Also, like Chartway's sterling reputation for serving all communities in our region, this year's AMF bands present a wide diversity of superlative talent, proving something for everyone's musical preference."
The Chartway Federal Credit Union 25th American Music Festival, presented by Cruzan Rum, is produced by IMGoing. For additional and current information, go online to www.beachstreetusa.com.