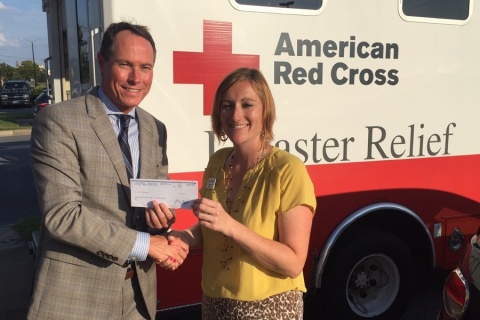 VIRGINIA BEACH, VA (August 30, 2017) – Chartway Federal Credit Union (CFCU) announced today it has donated $50,000 to American Red Cross Disaster Relief to show support of its members and employees in the Houston area affected by Hurricane Harvey.
"Chartway has several branches and thousands of members in Houston area," said Brian Schools, president & CEO. "We're pleased to make this donation toward the recovery efforts through the Red Cross in support of our members, employees and their neighbors who are struggling through the after effects of this terrible storm."
"Hurricane Harvey has brought unprecedented destruction and misery to Texas and Louisiana. In response, Americans are demonstrating tremendous compassion and generosity," said James T Hatcher III, CEO, American Red Cross Virginia Region. "The $50,000 contribution from Chartway Federal Credit Union is an example of this generosity and caring. Their donation will have a direct and meaningful impact and we are incredibly grateful for Chartway Federal Credit Union's support of the American Red Cross' relief efforts."
"We understand the severity of the storm," said Schools. "In addition to this gift to Red Cross relief operations, we have our financial assistance program in place to provide relief to members who need help during this difficult time."
Through its "Emergency Financial Assistance Program," Chartway is offering members special services such as requests to skip loan payment(s); request increased lines of credit; or waive payment-by-phone fees. Until all Houston-area branches are open again, online and mobile banking services are available while offices are closed. To access this assistance, members Chartway members may visit online at www.chartway.com or call (800) 678-8765 and press option 5.
About Chartway Federal Credit Union
Chartway Federal Credit Union, a not-for-profit financial institution, has been proudly serving members for more than half a century. Guided by its vision, mission, and values, the $2.1 billion credit union is dedicated to making life more affordable for its 180,000 members through nearly 50 branches and a full slate of online, mobile, and telephone banking services, including mobile deposit, mobile bill pay, and digital wallets. Chartway is one of the largest credit unions in the country and serves members in every state and several countries. With major membership concentrations in Virginia, Utah, and Texas, the credit union is consistently recognized for its financial strength, its high ratings in member satisfaction, its contributions to its communities, and for being an award-winning leader in charitable giving through its We Promise Foundation.